Lifetime Achievement Hartlepool Heroes winner visits category sponsor Steel Benders
Stephanie Addison has described her pride after winning the Lifetime Achievement prize at a local community awards supported by Steel Benders UK.
And Tania Cooper, the managing director at Steel Benders, has outlined why she was an incredibly worthy winner of the Lifetime Achievement Award at Hartlepool Heroes 2023 – organised by the PFC Trust, Hartlepool Borough Council and Hartlepool Carers – sponsored by her Middlesbrough-based steel bending and profiling business.
Stephanie co-founded Perinatal Mental Health Partnership, a national group of charities and individuals, after setting up the Raindrops to Rainbows ten years ago following her own struggles to overcome severe postnatal depression.
She was the first person to bring peer support to the region by extending the support she created in Hartlepool to Teesside, Tyneside and now beyond.
The Partnership has developed a staggering following on social media, including 190,000 on Twitter alone and her work earned her an anonymous nomination for the Lifetime Achievement Award at June's Hartlepool Heroes.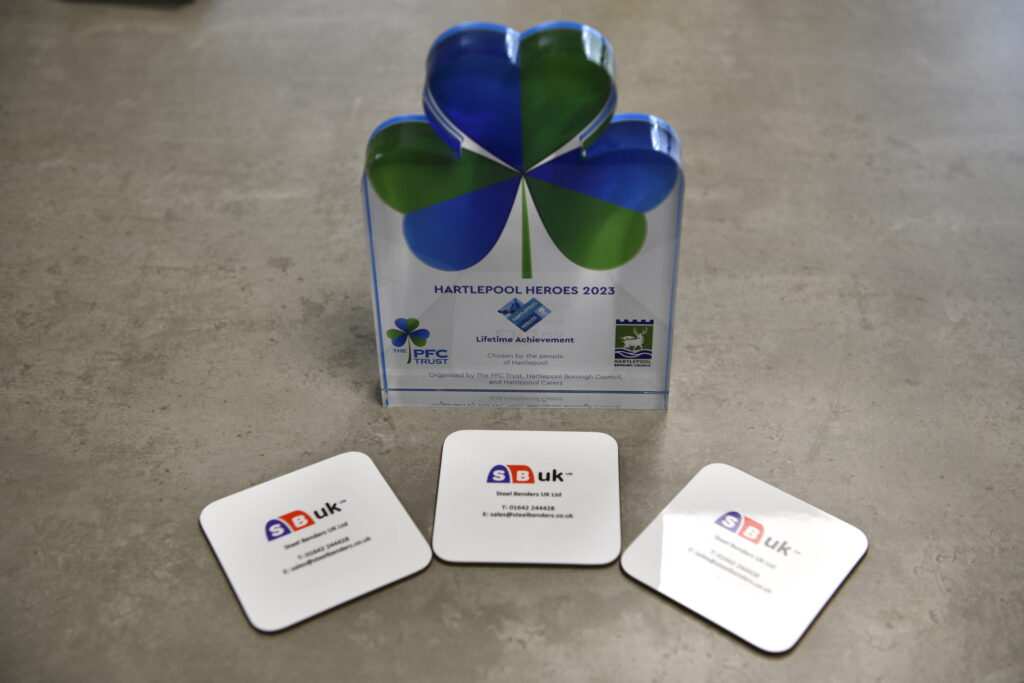 Tania, from Steel Benders who chose the winner of the category, said: "What struck me was how it was her own personal experiences that she used to convert her thinking into a charity.
"That charity works incredibly hard across the community to help other local people – and even across the country.
"Stephanie somehow managed to turn what she went through into a positive and that is an incredible thing to do – particularly when you are helping so many people suffering from similar struggles.
"She didn't feel the network existed at the time and didn't want others to have that experience, but that network certainly exists now. To hear her story was inspirational to me and to many others.
"Having heard all about the success and emotive stories from last year's Hartlepool Heroes, Steel Benders was keen to support the PFC Trust this time around.
"We believe it is important to recognise the local unsung heroes who selflessly provide support and work extremely hard to help others on a consistent basis without viewing themselves as heroes."
Stephanie couldn't be at the Hartlepool Heroes event at the Borough Hall on the night because of a prior engagement. She has since met up with Steel Benders' technical manager Lucy Anderson to receive her prize of £500 that will be paid forward to her chosen organisation or charity.
Stephanie, who recently donated her prize to the Women's Health Hub which provides support to new mothers locally, said: "It was a complete shock to discover the nomination and shortlisting. I don't always shout out about the work I do, particularly in my hometown, so to be recognised in these awards was an honour.
"I have no idea who nominated me but I'm extremely grateful to whoever it was for them to have deemed me worthy enough of such an award.
"I was incredibly proud to have won the Lifetime Achievement award, particularly as I have only worked in Perinatal Mental Health for ten years. I feel privileged to be in a position where I can help others and have my voice heard, not just locally but nationally too.
"I work incredibly hard with my team at Perinatal Mental Health Partnership to raise awareness and support other women. Having seen the statistics and messages of gratitude from our recent Maternal Mental Health Awareness Week campaign it is still as important now as the day I started. To have that recognised in my hometown is incredible."