Proud to mark milestone with expansion plans at Steel Benders
Steel Benders UK has marked its 20th anniversary by revealing plans for further expansion, having firmly established itself as one of the largest in the country.
Middlesbrough's reputable steel bending and profiling specialists are increasing the size of its 24,000sq ft Cochranes Wharf headquarters by the River Tees to 60,000sq ft, providing even greater capacity.
Steel Benders has seen its workforce double in recent years and profits have grown year on year in its bid to become the supplier of choice for all of its services.
Since Steel Benders was founded in April 2002 it has provided a service to a wide-range of markets including marine, defence, renewable energy, offshore, petrochemical, manufacturing, architectural and civil engineering.
Tania said: "The only thing we don't do is fabricate because we don't compete with our customers. That is a strategic decision and is one of our three unique selling points.
"The second is our quick turnaround on orders, regardless of how big the job is, and thirdly we don't say 'no' if it is within the capability of the machinery."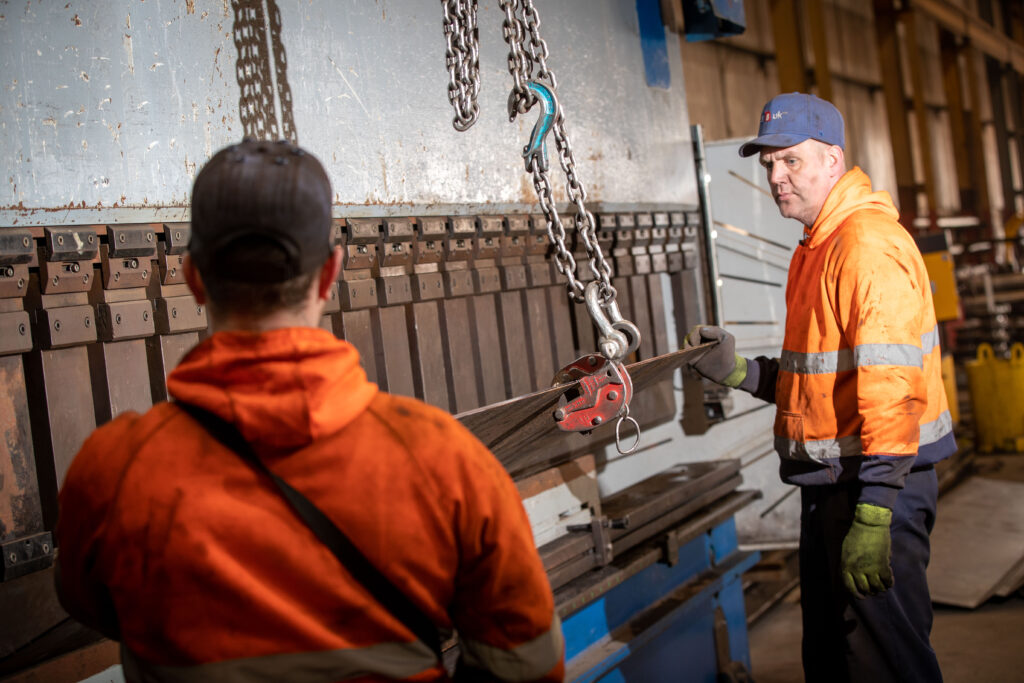 On a technical front Steel Benders can press brake up to 7.6m in length and roll 4m long plates, up to 150mm thick.
Typical examples of items produced are cylinders, concentric and eccentric cones, buckets, lobster backs, stair stringers, Parallel Flange Channel (PFC), Circular Hollow Section (CHS), Rolled Steel Angle (RSA), Universal Beam (UB) and Flat Bar.
These can be from all types of metal such as zinc, hardox, stainless, aluminium, boiler grade and mild steels. Steel Benders is a one stop shop for profile cutting, steel forming.
Operations Director Phil Anderson, recently promoted from general manager, has been a huge part of the Steel Benders journey since starting out as a labourer a decade ago – and is excited about the future.
He said: "We are processing all kinds of items. We are currently rolling giant cylinders for acid tanks as well as pressure vessels and we are also processing cone reducers for the London underground.
"We have done anode rings for offshore wind turbines, components for the blast containers heading to Hinckley Point, Somerset. Our capabilities are huge – almost endless."
Much is being done to ensure the Steel Benders success story continues.
It has upgraded its Computer-Aided Design (CAD) to include 3D and installed improved IT and Customer Relationship Management (CRM) systems.
Tania said: "Every element of the business has been upgraded and invested in, from staff training and development to £1m worth of new equipment.
"We have a multi-skilled workforce here and we have an amazing team.
"We have grown organically and steadily, profitable from the get-go. We are more efficient now with our KPIs trending where we want them to be.
"We are proud to be the largest steel bending company in the North-East with contracts across the north and beyond and we have big plans to make sure that continues."